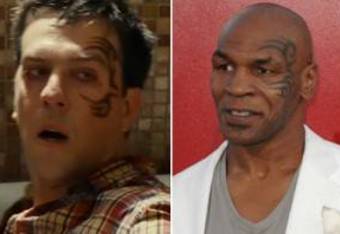 The tattoo artist, S. Victor Whitmill, who gave Mike Tyson a facial tattoo, is suing Warner Brothers Entertainment for copyright infringement over its use of similar-looking facial art on Ed Helms' character in the movie "The Hangover: Part II." Mr. Whitmill filed suit in Missouri federal court in April 2011.
Mr. Whitmill asked for an injunction to stop the release of the movie, which was released over Memorial Day weekend.  However, his request was denied.  The federal judge ruled that "The Hangover: Part II" could open in theaters as planned; however, the judge ruled that the copyright lawsuit would be allowed to go forward.
Mr. Whitmill claims in his lawsuit that he was never "asked for permission for, and has never consented to, the use, reproduction or creation of a derivative work based on his original tattoo."  The complaint alleges that "when Mr. Whitmill created the Original Tattoo, Mr. Tyson agreed that Mr. Whitmill would own the artwork and thus, the copyright in the Original Tattoo."
The case turns on the fact that the tattoo in the movie is being used as a parody of Mr. Tyson's tattoo.  According to Warner Brothers Entertainment attorney, Joey Jackson, "using the tattoo in the movie is simply part of the joke.  It is also transformative in that it makes use of the tattoo in a scene where it adds value to the meaning of the original design.  The show will go on as no court will order an injunction."
Nevertheless, because Mr. Whitmill filed a copyright suit, Warner may be forced to settle with the tattoo artist.  According to entertainment attorney Yemi Adegbonmire, the court will likely lean in favor of Mr. Whitmill because the tattoo is registered as a copyright.  Thus, according to Mr. Adegbonmire, Warner Brothers Entertainment should have had notice as to Mr. Whitmill's intent to protect his work.
Image from:
http://bleacherreport.com/articles/709691-french-open-2011-danica-patrick-joakim-noah-more-swagger-news/entry/86739-mike-tyson-tattoo-artist-seeks-copyright-infringement-against-hangover-2
Filed under: Copyright by kylew